I feel like I'm a pretty lucky lady, so I didn't have a lot to wish for this birthday. I already got an iPhone, and I was really only expecting my annual dollar bill from my grandparents (always one of my most anticipated pieces of mail!), and maybe a pair of Tom's from my parents.
But I got much, much more than I bargained for!
I woke up to a couple of cards Brett had squirreled away after getting them in the mail the day before. I got my dollar bill all right, but I also had a surprise from my in-laws. They sent me a beautiful card along with a gift card to Lowe's!
I'm already planning on how to use it. I took a scouting trip this morning (actually, I was ready to make my purchase and realized I left the card in Brett's truck while I was moving it to get out of our driveway. Oopsie!
First on the list is a kit to cover up our cords in the living room. They have a kit with several lengths of paintable cord cover moldings with some connectors that should work just fine.
And I scoured the lighting section for a new dining room chandelier, but nothing lit my fire. Same story in the outdoor rug department. But there's a fixture I've had my eye on for months, to replace the one we installed over our sink. I bought that fixture not because I loved it, but because it coordinated with the two ceiling fans we love downstairs. I just really want something that fits in better with the feel of the kitchen. Simple, bright, cool, this is it.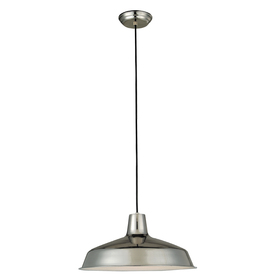 Then, I came home to some beautiful white and yellow flowers on the counter. I think it's no coincidence that I've been extolling my love of yellow lately. Awww, he pays attention!
Don't you just love the texture of sunflowers?
So pretty!
And while at work, I got a call from my mom and grandma. Guys, my 70 year old Nana is my biggest blog devotee. So when she walked into a fabric store and saw this:
She immediately remembered that I had posted it before. When I was extolling my love for chevron, I linked to that fabric from
Premier Prints
. What I didn't realize was that one of their few retail locations was in none other than my birthplace, Meridian, MS! They happened to stop in after my aunt ordered some upholstered pieces, and she recognized the chevron and called me.
And thanks to Nana, my fabric stash has grown exponentially overnight.
Y'all, the customer service at this place was fantastic. I sat on the phone with my mom giving her style names and colorways. They helped her find every fabric, suggested some other products I might like, and offered to overnight some things they didn't have in stock for no charge. They were also really great about helping my mom, who's not a seamstress, figure out how much fabric I would need for projects. There were a couple fabrics with large repeats, and I was unsure about how much extra yardage I would need to work with that.
They also do upholstery and sell furniture pieces that are covered in their fabrics.
Of course, I got some of that yellow Chevron. I'm planning to use it for some drapes in the guest room!
And I also got a larger chevron to recover the $3 chair. I can't wait to see it done! This is actually the third fabric I've bought for the chair, but it's definitely the last. No, I mean it (the others will find homes as living room curtains, a table runner and placemats, and an ironing board cover.
I also got smaller pieces of a lot of fabrics to build up my stash. Orange houndstooth, anyone?
And I couldn't resist this owl pattern.
I can't wait to lay my head on a pillow with this beautiful fabric.
I don't know what I'm using this for yet, but I can't wait to see it.
This beauty will make some Euro Shams for our bedroom.
Just finding the store was gift enough, but my mom called to let me know she wasn't going to let me pay her back for all of these goodies. Way too generous, right? It blew my mind!
And a little bird told me there's a gift card to Sherwin Williams on the way. And since Sherwin Williams is running 30% off for preferred customers this weekend, it seems like even my favorite paint store is getting in on the birthday action. And I've decided the black fireplace is a YES. Or at least a YES, we'll try it and paint over it if we hate it.
I also got taken out on a date by the hubs. We saw Inception (I loved it, he hated it) and stuffed ourselves with fondue, then came home and watched Top Chef. Pretty much the perfect night, am I right? All in all, my twenty fifth was much better than I expected. And thanks to some gift card action and a new fabric stash, my home to do list has just gotten much bigger!