No, I'm not talking about the TV show. I'm talking about the third bedroom.
It's not the prettiest room in the world.
The office has become a graveyard for hand me downs and old stuff. It has the cheap white bookshelves that resided in my childhood room. It has the TV stand from my itty bitty college apartment. And it has the horrifying lamp/magazine rack/table combo that Brett refuses to part with.
Seriously, when we moved, I told my dad I wouldn't be upset if this thing fell out of the truck, but he would have no part in it. Proof that he loves Brett more than he loves me.
It also has one really awesome piece. The mid century stunner of a desk we picked up for $40 at a garage sale.
I can't wait for garage sale season to heat up again. I need more MCM in my life.
Now, I'll be honest here. Not much working goes on in our office. There's a lot of video gaming and internet browsing, a little DVD watching (no satellite in here), and almost constant music. Most working from home happens either on the couch with my laptop (me) or on the phone writing furiously (him).
But still, this is a room that needs to function for us much better than it is. I'm tired of laying or sitting on the carpet when I get home from work. I'm tired of rooting through boxes of books in the thankfully ginormous closet. And I am so, so tired of the lamp/table/magazine rack.
The first step will happen soon. We'll cover up that garish jade in favor of what else, gray.
There's a hint of blue there. Enough to delineate from the eventual hall color, but not so much that it will scream BLUE. We hope.
Unfortunately, after that there will be a standstill in office upgrades. The kitchen backsplash is our next priority and I won't be spending any major home related funds until that's all sewed up.
But I have plans. Oh boy, do I. And considering this is really Brett's room, I may just have my clean, modern dreams crushed.
First, notice the absence of a lamp/table/magazine rack. It will be gone, Brett. Mark my words.
Instead, the monstrosity will be replaced by an arc lamp, like
this
one from CB@.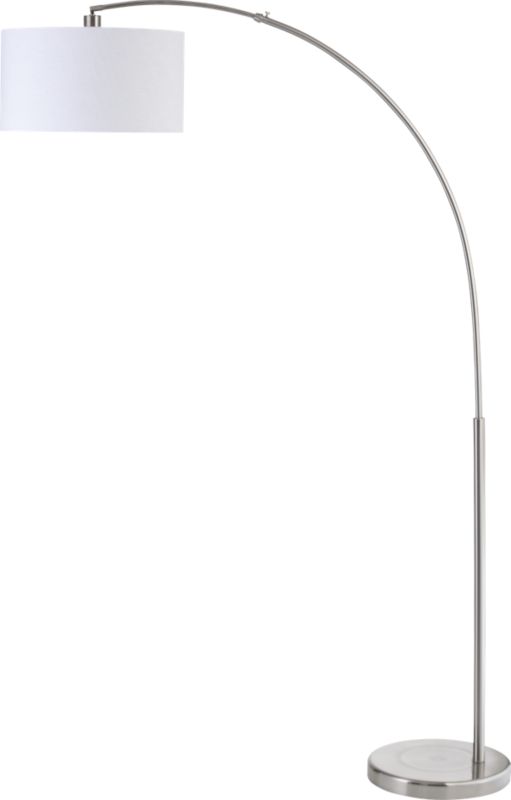 It will serve as both a task light for the desk, and reading light for people who are lounging on our next addition: seating.
We really need a sleeper sofa in here. With our current guest bedroom switching over to a nursery in a couple of years, we'll need the space. Unfortunately, I'm having little to no luck finding a sleeper I'm happy with, that doesn't cost a million dollars.
Yo,
Goodwin sleeper
! You are totally adorable.
So why do you have to be $1300? It would be one thing if you were destined to grace our living room, but I just can't spend over a grand on an office sofa.
A much cheaper option is this new
2x2 Daybed
, but I'd really love more than a twin.
Anyway, seating is yet to be determined. If anyone comes across a lovely, modern, full size sleeper sofa for $5, let me know.
I'd also like to hang some light, airy curtains to the floor, behind whatever seating piece we go with. I'll hang them wider than the narrow window, but I'll leave enough room for Brett's
vintage concert posters
.
For book storage, we're building it. We'll probably end up with straight, simple cases stained to match the desk as closely as possible. I'd love to try to build the puzzle bookcases from
Knock Off Wood
, but we'll have to make it work for our slanted ceilings. We envision and entire wall filled with books. Which won't be hard to do, considering the amount we have.
The only thing left is TV storage. I am clueless here. It needs to hold 387 video game consoles and a 19" CRT TV. And be cheap and gorgeous. Any ideas? Maybe we'll end up building this as well, and matching the book shelves.