This weekend brought more than just an ugly chair into my life. It also brought an afternoon of working out some of the details in the kitchen.
A couple of weeks ago, on my Ikea trip, I picked up some
spice jars
.
Similar jars
sold for $3 a piece at Bed Bath and Beyond, so I was ecstatic to see these for 75 cents each!
Still, I wasn't sure where to put them. I knew I wanted to display them, but I wasn't sure if I wanted to go the magnetic route, line them up on the back of my stove, or what. I went for what.
I picked up three floating shelves at
Target
. They were $4.99 each at my local store. Not sure why the price discrepancy but I'm okay with it!
After much despair over breaking one of the included wall anchors (why, why would there be a horizontal stud there? Why?) I got them up. I filled the jars with some of our most often used (and prettiest, let's be honest) spices and voila! A set of shelves in easy reach of the stove, the perfect size for my little spice collection!
Spices are just so pretty, aren't they?
They should definitely be on display.
Then, I got my butt in gear and finally tackled my plate collage.
Using my all time favorite home decor thing: monkey hooks, along with some paneling nails (since they were already white) and these awesome
plate hangers
, I was ready to go.
The plate hangers need to be attached the day before you're ready to hang. Mine have been attached and waiting for like 4 weeks because I'm lazy. To put them on, you just wet your finger with some water, smear it on, stick the plate hanger on, and smooth out the bubbles. Then allow to dry.
You can see from the picture above that I had to cut some of them down for the smaller pieces. This worked like a charm.
I also knew some of the monkey hooks and the metal loops on one of the hangers would be visible. I sprayed the monkey hook intended for the cast iron cornbread pan with white spraypaint. For the hanger loop, I cut a slit in a piece of paper, stuck just the loop through, and sprayed it. Then I waited for it to dry before pulling it back through.
Those monkey hooks are seriously amazing, folks. I cannot emphasize this product enough. You stick it in the wall, push it in until it's braced against the drywall, and you've got a hook that will hold 50 pounds. We have them holding up the mirror in our dining room. That's how awesome they are.
Thanks to the hangers, I was able to do this project with no levels and no tools other than my hands. For the longer cast iron pan, I used wire to create a hanger, looped around the handles on each side. Then for each piece I was able to just place it on the wall where I wanted it, mark the hanger location with a pencil, push in a monkey hook (and replace it with a paneling nail if the monkey hook would show) and hang the plate. It was so simple and I can't believe I put it off this long.
I love the way the mostly black, white, and cream pieces look on the barely gray walls.
I love it so much, I've already bought two plates to add!
This
peacock beauty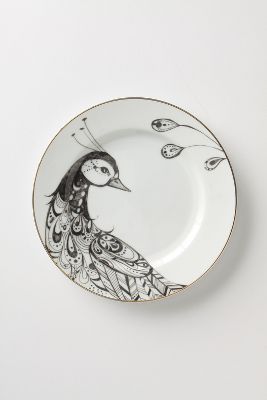 And this
flowered cutie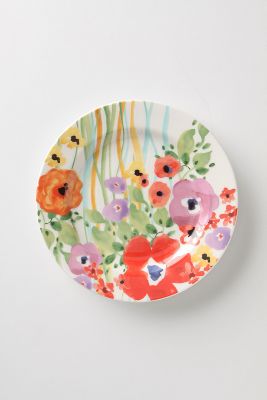 Both from Anthropologie.
A trip to Urban Outfitters had me seriously giggling over
this plate
, but I figured it might be a touch inappropriate for the kitchen.
We also picked up an exciting new acquisition this week: a home printer! It's actually an all in one, which means no more late night Kinko's runs for us. And it prints beautifully. So Saturday night, I decided to create some art for the kitchen. I thought the spot above the spices was just screaming for something decorative.
I was inspired by several different prints.
Cute, right? But I wasn't totally sold on the sayings themselves.
Then I remembered this
postcard
that I saw in a gorgeous house on The Nest! I love the saying, but the style wasn't really for us. So I decided to mix the two.
Corny? Definitely. Us? Assuredly.
And I love the way it seems to complete our little spice corner. Seriosly, I can't wait until we get the backsplash done (oh my god, I need to get started in that) and get a more modern replacement for the baker's rack. I am seriously loving my kitchen already.