I have a bunch of random things kicking around to post, so here's a mish mash of things.
First, the fall cure update. When I started, I loved the concept of this year's cure. At 20 minutes a day, it's perfect for us working stiffs, right?
I didn't think about the fact that I wasn't going to be home over a quarter of the days of the cure! When I'm in a hotel Monday through Wednesday, cleaning, buying flowers, and other 20 minute tasks aren't happening. So they've been pushed and I'm behind.
But I'm doing pretty well considering. I'm only a couple of days behind. I still need to clean a room this week, clean out my medicine cabinet, and hang a piece of artwork. I stopped on the way home from work today (my first day in my own city this week!) and got some flowers.
I decided to go with another bunch of football mums. The first ones I got, three weeks ago, lasted until today. They were still
okay
, and probably would have lasted another week if I had been home to change the water earlier this week. At $4.99 from Whole Foods, they're a great deal.
And dude, I'm sure you're tired of it, but hellooooooooo black fireplace. I love it so, so much. Best, decision ever.
I love this color. It totally matches the sweater I wore today, actually!
I used the greenery from last week's flowers-white hydrangeas. They were gorgeous, but not super cheap. And they started wilting almost instantly. These would be great for an event, like a dinner party. But not to enjoy for a week. Excuse the iphone pic, please.
The greenery was still in pretty good shape. I even had enough left over to brighten up my fruit bowl area.
One of my favorite days so far was one of the ones I dreaded most-the media fast. I spent an entire evening with no tv, no computer, no books, no radio. And I did it on a night when Brett was working, so I spent it completely alone. To keep it real, I was assisted by a traffic jam caused by an overturned 18 wheeler. So I got some extended radio time. I also stopped at the fabric store on the way home. But I got into the spirit of things starting at the fabric store. I left my iPhone in my purse, and made conversation with my fellow shoppers instead. It was a nice change of pace.
When I got home, I had dinner (at the table!) and just kind of stared around my living and dining room and thought about what I wanted to do. Some things will never happen (wood floors, ha!). Some things will happen really soon (curtains). And some things just hit me all of a sudden. It was really, really refreshing.
After dinner, I decided to hang a mirror that I've been meaning to hang since I painted the dining room. Like three months ago.
I almost definitely should have waited until Brett was home to help, but I did it without breaking the mirror! And it's level! Then I took a long bath with a yummy smelling candle and went to bed on time for once. I felt great the next day, and I had a new list of things to tackle.
So what is it that just hit me in the face, and so suddenly became clear?
This thing.
I hate it.
Like HATE it.
I kept quiet about it, because I thought Brett really wouldn't be happy with me saying I wanted to refinish it AGAIN. But I really, really hate it. So I secretly wished I could paint it again and started thinking about what I should back it with.
Then a few days later, a miracle happened! I was sweeping the dining room and Brett was wiping off the table, and he said, "I hate that china cabinet." I think he was so confused when I started grinning. He doesn't hate the cookie monster color with my passion, but he also doesn't like it. What he hates is the flowery paper backing. And I honestly can't blame him. It's just way, way, way too much. Way too much.
So we have to decide what color we want to paint it. We're considering mixing the half quart of blue that we have left with some black and making something closer to the blue-black we wanted in the first place. But I'm also considering just plain black, or, of course, gray. Charcoal this time? We're really not into white, but suggestions are welcome.
For the backing, I'm loving
this
from Paper Source.
But I am kind of in love with the whimsical idea of
this
utensil print.
And then there's the Marimekko
Frekvennssi Wallpaper
, and of course, my dream, Schumacher's
Birds and Butterflies
Wallcovering, but it's way too pricey for this project.
I'm really obsessing over the dining room lately. I think we've picked out a table, pending seeing the color in person to see if I think it will clash with our floors or not.
Sure, it's basic, nothing fancy. But the clean lines, the solid wood, and the natural finish has me thinking this could be our table four years to come.
But I am set on dining chairs. I've decided. I haven't let my husband in on this decision, but it's okay because I'm the decider, like George W. Bush. I'm wearing the Decision Pants right now.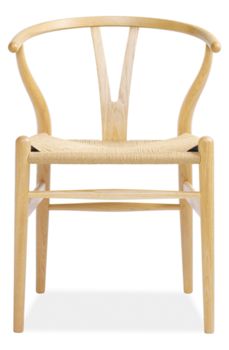 Our eventual dining chairs are going to be Wishbone Chairs. And even if I'll feel bad, and wish I could find vintage ones, they're going to be knockoffs. The one pictured above is $960. For a single chair. Or $5800 for six. Okay? I can't afford it. InMod sells a knockoff for just $269. The top rail isn't one piece of bentwood. And you know what? That's not worth 700 bucks to me. Urban Home used to sell a version for just $79. SEVENTY NINE DOLLARS! But it seems it's no longer available. My plan is to buy one chair at a time until I have the number I need (8?). I know this is a pretty stupid plan. I know.
Now, I'll wrap things up and go to bed. I'm happy to be home and taking advantage of my own bed and my wonderful sheets (Target Home Organic Cotton. Get some). Hope everyone is having as wonderful a time as I am tonight!